St Cloud Senior Citizen Center Inc. (SCSCCI)
Hello and welcome!
It is official we are opening on a very limited capacity next month. Six clubs are going to open and test our safety plan and contact tracing procedures. The next round of clubs will open in March or April. Remember, to be eligible to open, the club must have a City of Saint Cloud approved Safety Plan as well as training by the SCSCCI Board on the social distancing and snatiation protocols. Keep reading:
Opening Date: 2/10/2021
Day/Time: Wednesday/ 1-4:00PM
Room/Capacity: Cypress Room/ 15 people
Opening Date: 2/8/2021 and 2/12/2021
Day/Time: Monday/ 2-5:00PM and Friday 11:00-2:00PM
Room/Capacity: Magnolia Room/ 20 people
Preregistration required
Opening Date: 2/1/2021
Day/Time: Monday/ 8-9:00AM and Friday 8-9:00AM
Room/Capacity: Community House 15 people
Opening Date: 2/3/2021 /
Day/Time: Wednesday 10:00-1:00PM
Room/Capacity: Magnolia Room/ 20 people
Sons of Union Vets
Opening Date: 1/9/2021
Day/Time: First Saturday of odd months (Jan, March, etc.) 9-6:00PM
Room/Capacity: Community House 20 people
Don't Stop Now!!! Please keep scrolling down to get to know us.
This has been a challenging time for so many. Your SCSCCI Board has stayed active and has worked with the city to provide training and safety to our club presidents. Each club has made an independent decision about how best to open and when.
You will begin to hear some SCSCCI members talk about going back to the Community House or the Community Center. I want to emphasize that there is no single opening date. Openings have been individualized based on the group size and needs of club members. Please wait to hear from your club president.
It is best to contact your club president for further information about your club activities.
As always be safe!
Lorraine Patusky
SCSCCI President


Tough times never last, tough people do.
Stay strong. We are thinking about you.


Continue to scroll down


SCSCCI Executive Board
Lorraine Patusky President
Brian Withrow First Vice President
Lindy Bowers Second Vice President
Jenny Bate Secretary
Betsy Bratz, Treasurer
Join our email list for openings and current events.
Staying in touch
We would like to stay in touch. Please join our email list. Click on the link below and then send an email with your name. This list will only be used for SCSCCI alerts and updates.
Our email address will automatically pop up in whatever email system that you have.
Just type your name and hit send.
That's all!
You will get a message that states:
"Thank you! You are now on the St Cloud Senior Citizen Center email list. This list will be used sparingly to provide updates on events or community center/house openings and closings."
Keep scrolling to the bottom of the page


We are planning for reopening. Read about our safety plan in the EVENTS section.
Keep reading!
I hope you and your families are well.
SCSCCI has developed a COVID safety plan to ensure the health and safety of all of our members. So stay tuned there is a light at the end of this tunnel.
COVID Humor
The COVID virus is turning us into our dogs. We roam the house looking for food, take naps on the coach, get scolded "NO" when we approach a stranger, and look forward to car rides.
I need to practice social-distancing from the refrigerator.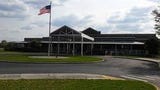 Saint Cloud Community Center
3101 17th Street. St. Cloud, FL. 34769
Phone 407-957-7392
St. Cloud Community House
716 Indiana Ave. St. Cloud, FL. 34769
Phone 407-498-0541


Building our community . . . Be Inspired
SCSCCI coordinates the scheduling and promotion of seventeen clubs and a year round calendar of special events. Check out our clubs.
All ages are welcome for fellowship and fun!
SCSCCI is an organization that coordinates special interest clubs and sponsors events for adults. We specialize in programs designed by active adults for active adults in both the St. Cloud Community Center & Community House.