St Cloud Senior Citizen Center Inc. (SCSCCI)
Hello and welcome!
We offer activities for active adults, lead by active adults.
March 14 & 21
"Pot Luck" Karaoke is Back!
All are welcome. No membership required.
For information call 407-951-9700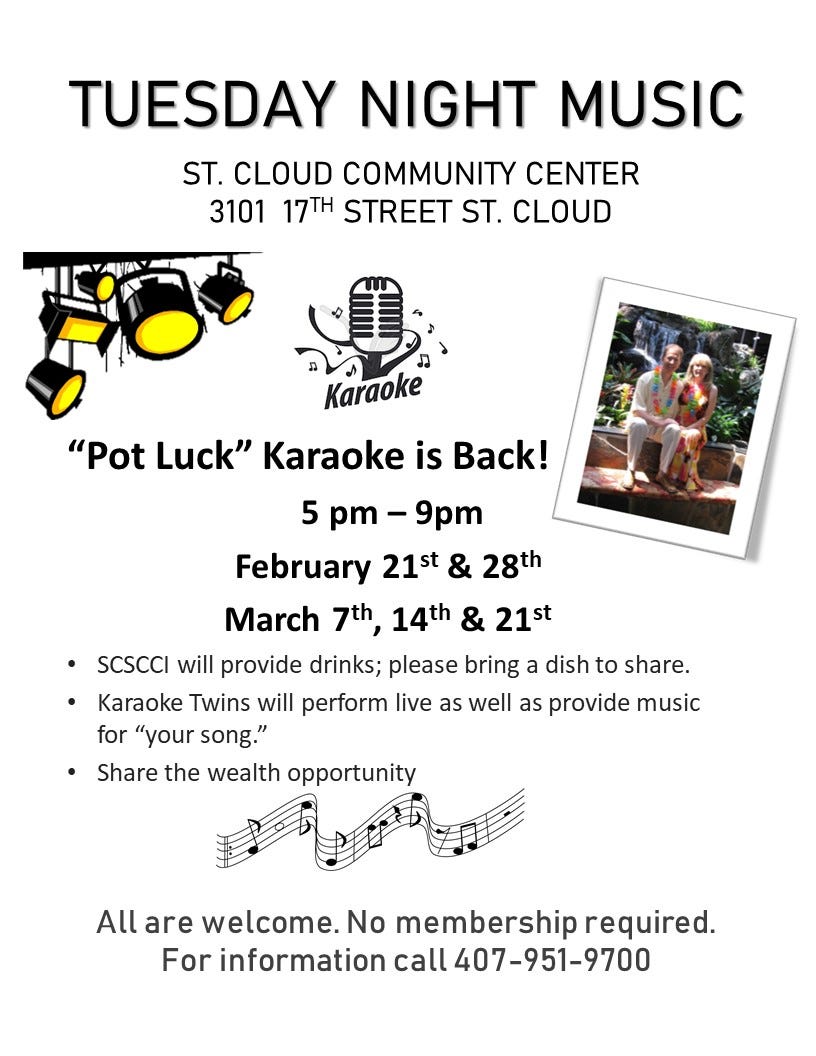 Osceola Community Orchestra presents:
Cabaret
March 28, 2023
7:00pm
St Community Center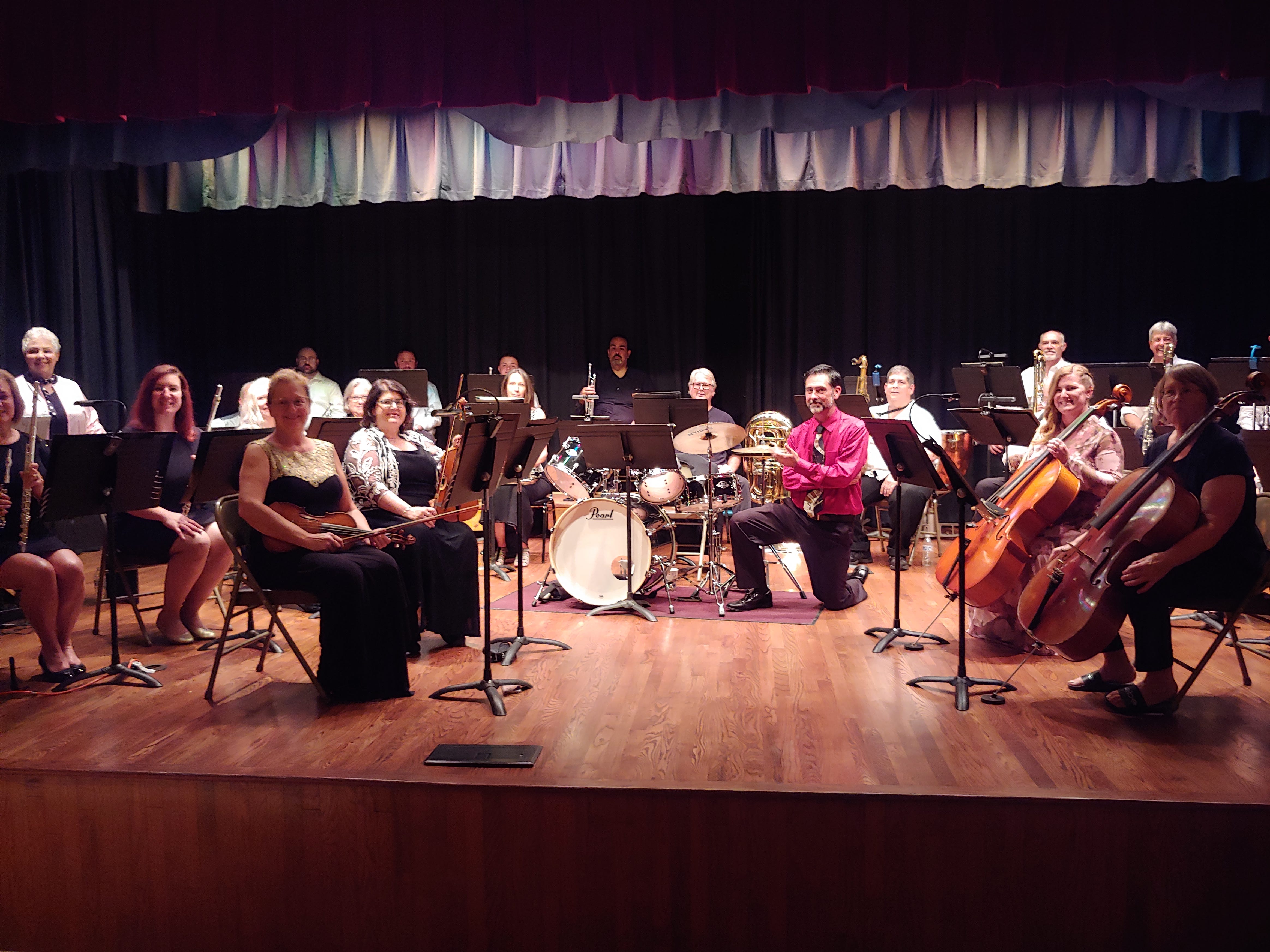 Our local treasure:
Osceola Community Orchestra


Cathy Lewis, OCO President;
Brian Edwards, OCO Conductor;




Tuesday nights are a special time for fellowship.
Potluck Karaoke
We offer the best of our local talent.
Sing, dance or enjoy the food...join us for Potluck Karaoke
Each Tuesday, November through April, join us for music, snacks, and fellowship.
Donation requested from guests.
SCSCCI 20th Anniversary at the Community Center
Congratulations to the SCSCCI Leadership. They had a wonderful afternoon of fellowship, food, and fun! Thank you John, Audrey, Betsy, and Tom!
Friday Night Music
Friday Night Musicians provided the sound track for a festive get-together.
SCSCCI Clubs
Each SCSCCI club provided a table to show their mission and expertise. Go Community Crafters!!
Message from the SCSCCI President
Welcome to SCSCCI. We are committed to adult programming. Our clubs are open; please contact the individual club president for further information about activities.
Go to the Events Page for the club calendar.

John McMahon
SCSCCI President
Please keep scrolling down to get to know us.
We would like to stay in touch. Please join our email list. Click on the link below and then send an email with your name. This list will only be used for SCSCCI alerts and updates.
Building our community . . . Be Inspired
SCSCCI coordinates the scheduling and promotion of thirteen clubs and a year round calendar of special events. Check out our clubs (links above).



SCSCCI Executive Board
John Mcmahon President
Tom Barrows 1st Vice President
Audrey Snyder 2nd Vice President
Jenny Bate Secretary
Betsy Bratz, Treasurer
All ages are welcome for fellowship and fun!
SCSCCI is an organization that coordinates special interest clubs and sponsors events for adults. We specialize in programs designed by active adults for active adults in both the St. Cloud Community Center & Community House.
Fellowship is the cornerstone of our community.
Concerts
The Osceola County Orchestra (OCO) Will offer Cabaret Night on March 28th at 7:00pm
A special thank you to:
· Cathy Lewis, OCO President;
· Brian Edwards, OCO Conductor;
· All of our performers.


Holiday Parties
Step by Step with Gail is one of the many clubs hosting a 2022 Christmas Party.
Each club hosts a special holiday celebration.




Music Nights
The Tuesday Night Music Continues -
November through March from 7:00-9PM
Each Tuesday celebrates the "playlist" of our lives.
See Events page for schedule
Tuesday night in the "cloud.'
Thank you...
A special thank you to the audience members who attend the Tuesday Night Music program; this event brings together the St. Cloud Community.
Stay tuned...
We listen, sing, and dance to the playlist of our lives.
Our performers...
A special thank you to the performers who entertain and delight us.


We also celebrate our members
In August we had the honor of hosting the 100th birthday party for one of our dearest members.
A special tribute to our very own Mrs. Pat Rudd on her 100th Birthday.
On August 29, 2021, Dorothy Jean "Pat" Rudd was honored on her 100th birthday by her community at the St Cloud Community Center in St Cloud; FL. Family and community members payed tribute to Pat on this special day. The program included a "Roaring 20s" Tribute from the Osceola Community Orchestra and performances by the various music and dance groups of the ST Cloud Senior Citizen Center.

Pat has a grandson, Gary Root of Saint Cloud, FL and a granddaughter, Jinnifer Cushman of Michigan and 12 great grandchildren and two great-great grandchildren.
Background information:
Pat is an icon in her community. She is active and engaged on many levels throughout St Cloud; including being the 2017 St. Cloud Senior Citizen Center Queen.
Pat has a remarkable story. She was one of the first Navy servicewomen to be deployed to Pearl Harbor after the Japanese bombed Pearl Harbor in 1941. Pat did secretarial work and taught service men to read. The Alaska Quilt of Valor foundation presented Pat with a quilt to honor her World War II service. She and her late husband, Gerald James Rudd, lived in Alaska. In retirement, they built and ran a hunting camp in Georgia; together they built the camp, literally, from the ground up in their 70's. This was their idea of retirement!
Pat and Gerald moved to Orlando, Kissimmee, and then St Cloud in 2013. Pat is retired from the SunTrust Bank. Pat's husband Gerald has passed; they had been married 75 years.