St Cloud Senior Citizen Center Inc.
SCSCCI
Hello and welcome! We're delighted to have you here. Whether you're new to our St Cloud, Florida community or already "a part of the furniture," we hope you'll find everything you need to support your interests and active lifestyle.
Staying in touch
We would like to stay in touch. Please join our email list. Click on the link below and then send an email with your name. This list will only be used for SCSCCI alerts and updates.
Our email address will automatically pop up in whatever email system that you have.
Just type your name and hit send.
That's all!
You will get a message that states:
"Thank you! You are now on the St Cloud Senior Citizen Center email list. This list will be used sparingly to provide updates on events or community center/house openings and closings."
Due to the Coronavirus disease (COVID-19)
All Club activity is suspended at the Community Center/House until further notice by order of St Cloud City Commissioners.




I hope you and your families are well and staying home to mitigate the spread of COVID-19. We each must do our part.
Before we reopen a COVID safety plan will be developed to ensure the health and safety of all of our members. So stay tuned there is a light at the end of this tunnel.
COVID Humor
The COVID virus is turning us into our dogs. We roam the house looking for food, take naps on the coach, get scolded "NO" when we approach a stranger, and look forward to car rides.
I need to practice social-distancing from the refrigerator.
Tough times never last, tough people do.

Stay strong. We are thinking about you. SCSCCI Executive Board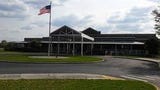 Saint Cloud Community Center
3101 17th Street. St. Cloud, FL. 34769
Phone 407-957-7392
St. Cloud Community House
716 Indiana Ave. St. Cloud, FL. 34769
Phone 407-498-0541
On February 29th, SCSCCI held a successful Meet and Greet so that club members could share their stories. Click on the link below.
All events are canceled until further notice.
Building our community . . . Be Inspired
SCSCCI coordinates the scheduling and promotion of seventeen clubs and a year round calendar of special events. Check out our CLUBS.
All ages are welcome for fellowship and fun!
SCSCCI is an organization that coordinates community clubs and sponsors events for active adults. We specialize in programming designed for active adults by active adults for both the St. Cloud Community Center & Community House.
SCSCCI News
Breaking news!
We're constantly updating you with our events and latest announcements. You will get the first look at our new projects, seasonal events, and important notices.