The best way to prevent illness is to avoid being exposed to this virus.
The virus is thought to spread mainly from person-to-person.
· Between people who are in close contact with one another (within about 6 feet).
· Through respiratory droplets produced when an infected person coughs or sneezes. These droplets can land in the mouths or noses of people who are nearby or possibly be inhaled into the lungs.
ALERT
Older adults and people who have severe underlying chronic medical conditions like heart or lung disease or diabetes seem to be at higher risk for developing more serious complications from COVID-19 illness. Please consult with your health care provider about additional steps you may be able to take to protect yourself.
Take steps to protect yourself
Clean your hands often
Wash your hands often with soap and water for at least 20 seconds especially after you have been in a public place, or after blowing your nose, coughing, or sneezing.
If soap and water are not readily available, use a hand sanitizer that contains at least 60% alcohol. Cover all surfaces of your hands and rub them together until they feel dry.
Avoid touching your eyes, nose, and mouth with unwashed hands.
Avoid close contact
Avoid close contact with people who are sick
Put distance between yourself and other people if COVID-19 is spreading in your community. This is especially important for people who are at higher risk of getting very sick.
Take steps to protect others
Stay home if you're sick
Stay home if you are sick, except to get medical care. Learn what to do if you are sick.
Cover coughs and sneezes
Cover your mouth and nose with a tissue when you cough or sneeze or use the inside of your elbow.
Throw used tissues in the trash.
Immediately wash your hands with soap and water for at least 20 seconds. If soap and water are not readily available, clean your hands with a hand sanitizer that contains at least 60% alcohol.
Wear a facemask if you are sick
If you are sick: You should wear a facemask when you are around other people (e.g., sharing a room or vehicle) and before you enter a healthcare provider's office. If you are not able to wear a facemask (for example, because it causes trouble breathing), then you should do your best to cover your coughs and sneezes, and people who are caring for you should wear a facemask if they enter your room. Learn what to do if you are sick.
If you are NOT sick: You do not need to wear a facemask unless you are caring for someone who is sick (and they are not able to wear a facemask). Facemasks may be in short supply and they should be saved for caregivers.
Clean and disinfect
Clean AND disinfect frequently touched surfaces daily. This includes tables, doorknobs, light switches, countertops, handles, desks, phones, keyboards, toilets, faucets, and sinks.
If surfaces are dirty, clean them: Use detergent or soap and water prior to disinfection.
To disinfect: Most common EPA-registered household disinfectants will work. Use disinfectants appropriate for the surface. If unavailable options include:
Diluting your household bleach. To make a bleach solution, mix: 5 tablespoons (1/3rd cup) bleach per gallon of water OR 4 teaspoons bleach per quart of water
Follow manufacturer's instructions for application and proper ventilation. Check to ensure the product is not past its expiration date. Never mix household bleach with ammonia or any other cleanser. Unexpired household bleach will be effective against coronaviruses when properly diluted.
Alcohol solutions. Ensure solution has at least 70% alcohol.
What's New? A wonderful gift from the Patchers of Time Quilting Club for our SCSCCI Community.
The Patchers of Time Quilting Club has generously made and donated a magnificent artisan king/queen quilt that will be awarded at next year's Queen's Ball. Please do not miss the opportunity to buy tickets. To purchase tickets contact Maurice Doyle at 407-556-3760 or 407-347-4100 (mobile).
Contact: Jackie Fox 231-944-6129
Patchers of Time Quilting: Meets at the Community House
Tuesday from 8:00 AM to 8:00 PM
Thursday (2nd & 4th) from 11:00 AM to 4:00 PM
Saturday (3rd) from 9:00 AM until 5:00 PM
The Community Crafters are sharing their talents with the community.
The Community Crafters, formerly known as the Crafty Ladies, have knitted or crocheted 252 blue hats for an anti-bullying campaign; blankets, cocoons and baby hats for Beyond Pregnancy; over 100 hats for cancer patients, afghans for the Lake Nona VA and 20 blankets for Animal Services. Join them and learn to knit, crochet, or bring your craft.
Contact: Donna Dalelio 407-288-3069
Crafty Ladies: Meets Wednesday from 1-4:00 PM in Cypress Room of the Community Center
Can't Dance - Life is about to change
Come and say hello to our three dance groups at the Community Center:

Let's Dance Ballroom Club: Meets Wednesday from 7–9:00 PM in the Magnolia Room and Thursday 11–3:00 PM.
Contact: Kimberly Nelson Dyke at 407-361-5535

St. Cloud Line Dance Club: Beginning and intermediate line dance instruction & practice. This group meets all year in the Magnolia Room. Monday from 2–5:00 PM and Thursday from 5:30-8:30 PM. Novice, beginner, & intermediate dancers welcome.
Contact: John Dutt at 407-744-1700

Step by Step with Gail, Advanced Line Dance Club: They meet on Friday 6–9:00 PM all year (except 2nd Fri of each month) in the Magnolia Room. Advanced lessons are followed by open dance, all ages welcome.
Contact: Betsy Bratz 407-460-2640 or Gail Smith 407-408-5039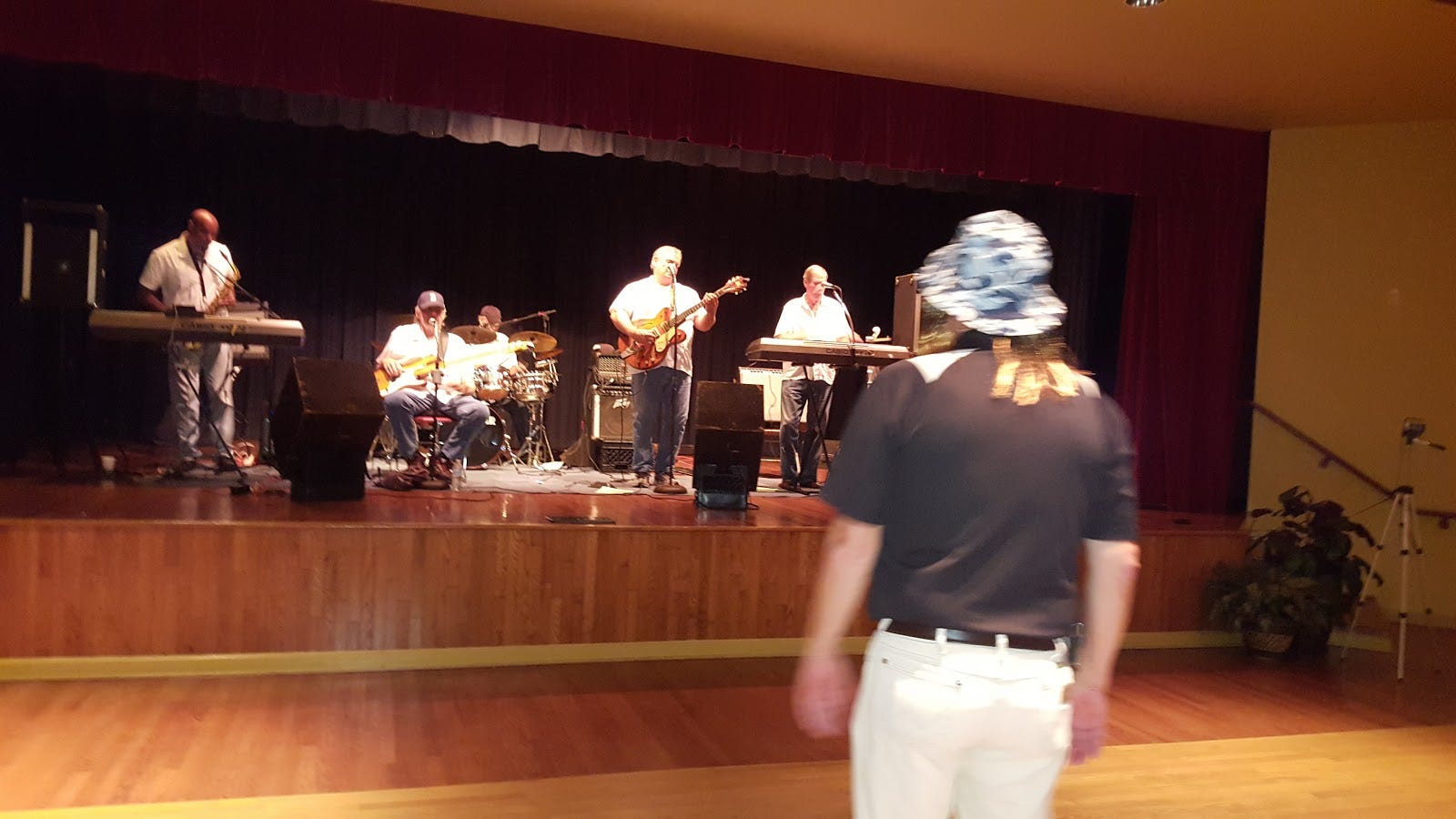 Get Fit:
Seniorcize: Limited to seniors. Stretching exercises, standing, sitting, or lying on a mat; bring a towel. Meets all year (MON,WED, FRI), 8–9:00 AM at the Community House.


Contact: Christina Bouaziz (May-Oct) 407-791-0904 or Myrna Lee (Nov-April) 407-593-1831

T.O.P.S. (Take Off Pounds Sensibly): Meets all year on Wednesday at 9:00 AM until noon at the Community House.


Contact: Ruth Upthegrove 509-690-0983

Fun 2B Fit: Meets all year in the Magnolia Room of the Community Center on
(MON,WED, FRI) from 8:30-9:30 AM.


Contact: Sherry Woods 321-624-7821
Music:
Friday Night Music: Meets in the Community Center every Friday from 6:30- 9:00 PM in Cypress Room (except 2nd Fri of each month). Contact: Tom Barrow at 407-957-5309

Osceola Community Orchestra: The orchestra welcomes musicians of all ages to this fun musical group. Musicians should be able to read music and bring their own instruments. Meets in the Community Center on Monday from 7-8:30 PM in Cypress Room (regular practice) and Thursday in Magnolia Room from 9-10:30 AM for additional practice. Contact: Cathy Lewis at 407-361-2859 osceolaorchestra@gmail.com


Fellowship and Fun:

Sons of Union Vets: Meets at the Community House the 1st Saturday of each odd month year long from 1–5:00 PM. Contact: Mike Urell for info at 207-251-1750

New England, NY, NJ Club: This fellowship club meets on the 3rd Tuesday from 12:30-2:30 PM (Nov-April) in the Cypress Room of the Community Center. Contact: Don Crawford 802-922-6645

Ohio, KY, MI, PA, VA, WV, MD, NC Club: This fellowship club meets on the 2nd Monday from 12:30-2:30 PM (Nov – April) in the Cypress Room of the Community Center. Contact: Larry Kinney 407-891-7396

Osceola County Sons & Daughters of Italy Chapter #2523: General meeting all year on the 3rd Tuesday 6-8:00 PM and the Council on the 2nd Tuesday in the Cypress Room of the Community Center. Contact: Charlene de Gori at degoricharlene@aol.com or 321-443-6171

Osceola Tai Chi Players Association: Meets all year on Tuesday 1–2:30 PM in the Magnolia Room of the Community Center. Exercise is followed by tea. Contact: Jeanie Donohue 407-738-7001 or Sever Woll 407-892-5190

St. Cloud Garden Club: Meets the 2nd Saturday (Oct-May) 11:30 AM until 3:00 PM in the Cypress Room of the Community Center. Contact: Suezette Wollesen 407-498-0514 or 407-973-3012

The Florida Sandhill Crane Preservation Society: Meets all year on the 1st Tuesday from 3-5:00 PM in the Cypress Room of the Community Center. Contact: Jeanie Donohue 407-738-7001
Community House
M W F
Seniorcize
Time: 8-9a

TUES
Patchers of Time Quilting
Time: 8a-8p

WED
Take off Pounds Sensibly (TOPS)
Time: 9-12p

TH (2nd & 4th)
Patchers of Time Quilting
Time: 11-4p

SAT (1st)
Sons of Union Vets
Time: 1-5p

SAT (3rd)
Patchers of Time Quilting
Time: 9-5p
Community Center
Cypress Room
MON
St Cloud Community Orchestra
Time: 7-8:30p

MON (2nd)
OH-KY-MI-PA-VA-WV-MD-NC Club
Time: 2:30-2:30p

TUES (3rd)
New England-NY-NJ Club
Time: 12:30-2:30p
Sons of Italy
Time: 7-9p

WED
Community Crafters
Time: 1-4p

FRI (1st, 3rd, 4th)
Friday Night Music
Time: 7-9:30p

SAT (2nd)
Garden Club
Time: 11:30a-3p
Community Center
Magnolia Room
M W F
Fun 2B Fit
Time: 8:30 – 9:30a

MON & THUR
St Cloud Line Dance
Time: 2-5:00 p (M). 5:30-8:30 p (TH)

Tuesday Tai Chi
Time: 1-2:30p

THUR
Orchestra
Time: 9-10:30p

FRI (1st, 3rd, 4th)
Smith & Western Advanced Line Dance
Time: 6-10p